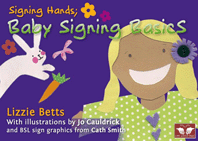 Newly available - we now stock the lovely 'Signing Hands: Baby Signing Basics' published by Little Learner Books. A finalist for 'Most Innovative Baby Product 2010' at The Baby Show for Trade, this is a beautifully crafted and informative introduction with first signs, engaging pictures, tips and exercises. RRP £10.99.
BUY ON-LINE
NEW - JUNE 2009 2nd Edition Revised & Updated LET'S SIGN DICTIONARY www.DeafBooks.co.uk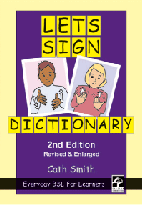 The most significant publication of British Sign Language (BSL) vocabulary for 15 years.
This brand new extensively revised and updated edition is in paperback, A4 format, with 316 pages.
More than 1,000 new entries bring the total contents to over 2,400 clear line-drawing graphics, making this the most comprehensive, up-to-date print dictionary of modern BSL signs in contemporary use, with an Index of over 6000 words. Priced at only £15.99 this book represents excellent value - 10 or more £13.99 each.
The sign graphics contained are also available in Let's Sign & Write V3 software pack for teachers and families to make their own materials - published by Widgit Software
and LET'S SIGN & DOWN SYNDROME: Signs for Children with Special Needs A4 format, slide-bound, 58 pageS,280 sign illustrations arranged in topics including Family, Feelings, Health, Actions/Instructions, Home School, Manners and Time. Clear introduction, guidelines, practice sentences and early language development activities.

ORDER On-Line from DeafBooks.co.uk Tel: 01642 580505
ALSO AVAILABLE (August 2005)
LET'S SIGN POCKET DICTIONARY: BSL Concise Beginner's Guide. £9.99.
Over 1,000 newly developed sign graphics from our large format LET'S SIGN Dictionary, now in this chunky compact paperback edition (404 pages A6) for easy use anywhere. See cover image on Notice Board.
Enjoy this matching game of signs on TALKFIRST