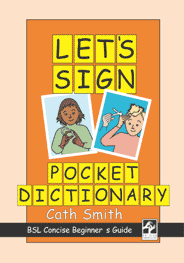 Now available in Kindle ebook format
Let's Sign POCKET DICTIONARY BSL
This pocket book contains over 1,000 sign graphics extracted from our large A4 format LET'S SIGN Dictionary Everyday BSL for Learners for easy use anywhere.
The pages are in fixed format to ensure that all text remains alongside the relevant illustrations for kindle device or tablet and smart phone using the free Kindle reader apps.
The illustrations are accompanied by written descriptions of handshapes, movements, context and variations. Face and body language are also illustrated and explained. Signs cover baby and early years, special needs,school and work settings and beginner's sign language courses.
This book provides a core vocabulary that is essential to all with 2400 word index. A clear concise introduction for beginners. It also provides alphabetically arranged vocabulary with Right and Left-handed Fingerspelling Alphabets - Numbers, Days and Months on separate pages for easy reference.
This book is produced by deaf and hearing professionals with many years experience of the British Deaf community and education.
---